ResAvenue founder Mr. Vishwas Patel wins top honors at the Economic Times Leadership Excellence Awards 2022
22 August, 2022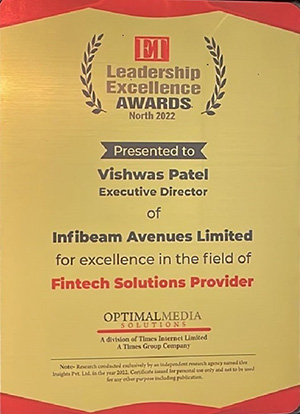 In acknowledgement of his stellar contribution towards the evolution and expansion of the Indian Fintech ecospace for the past 22 years, Infibeam Avenues' Executive Director Mr. Vishwas Patel was declared winner at the ET Leadership Excellence Awards 2022. His organization Infibeam Avenues Ltd was specially recognized for its immense contribution as a Fintech solutions provider for e-businesses in India and abroad. The Economic Times awards ceremony was held at the Grand Hotel in New Delhi on 22nd August 2022.
The primary objective of the ET Leadership Excellence Awards is to celebrate the excellence of business leaders recognized as icons, inspiration and game changers, having scaled new heights to transform the landscape not just in India, but globally as well. The Economic Times awards is the celebration of exceptional achievements from multiple fields like IT, Consumer Durables, Health, Retail, FMCG, Education, Real Estate, Fashion, Entertainment, Hospitality, Fintech and E-Commerce.
Vishwas is the founder of ResAvenue, a complete central reservation platform for hoteliers featuring an online hotel booking engine with an inbuilt payment gateway and a topnotch channel management solution offering rate and inventory distribution across 50+ leading OTAs. More than 3,500 hotels globally avail ResAvenue's booking solutions,which have generated almost a million room nights last year.
Apart from ResAvenue, Vishwas has also launched other cutting-edge SaS solutions including CCAvenue, the leading Indian payment gateway and BillAvenue, the RBI-approved operating unit for Bharat BillPay, India's largest interoperable bill payment network.
"My heartfelt thanks to the Economic Times team as well as the respected jury members of these awards for considering me worthy of this honour," said
Mr. Vishwas Patel, Executive Director of Infibeam Avenues Limited
. "I sincerely appreciate the efforts of all those who have supported us in this journey. Special thanks to my team at Infibeam Avenues, our business partners and bank alliances for their important contributions over the years. Moving forward, this accolade will serve as a motivating force, pushing us to innovate further for the benefit of our large clientele in India and abroad."
The list of prestigious awards and recognitions received by Vishwas includes the Asia-Pacific Information Security Leadership Award in Bangkok (2007), Best Payments Entrepreneur Awards at the Payments & Cards Summit (2019), Intellectual Explorer Award 2020, Business Entrepreneur of the Year - IT & SaS at the Entrepreneur Awards (2020) and Top Digital Leader at the DOD Awards (2021).